Morris Arena
Winter recreational activities revolve around the Morris Arena; an indoor hockey arena fitted with artificial ice.
Please visit the Morris MultiPlex website for contact information and schedules HERE
For Ice bookings, please contact Sherri Beardy at 204-746-2832 or email sales@morrismultiplex.ca
The arena is home to the Red River Wild Minor Hockey and Ringette, the Morris & District Skating Club, the Morris Mavericks high school hockey team and the Junior AO hockey team Pembina Valley Twisters who play out of the Manitoba Major Junior Hockey League. As well, there is recreational and pleasure skating for young and old alike.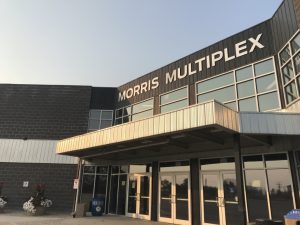 For further information on the Red River Wild Minor Hockey and Ringette, please contact Dixie Mazinke. Phone: 204.746.2188 Email at wdmazinke@hotmail.com or check out the website for a calendar of events.
MDSC offers Skate Canada accredited programming including learn to skate programs (CanSkate, Bridging, CanPower), Synchro and StarSkate (Figure Skating)
The figure skating program offered is registered with Skate Canada and is taught by qualified instructors. For information on the Morris & District Skating Club please contact:
Kim Graydon
Cell # 204-918-4069
Email: mdsc75@gmail.com
Morris& District Skating Club
Box 57
Morris, MB R0G1K0