Morris & District Centennial Museum
Address: 350 Main St. S.
Corner of Hwy #75 & Hwy #23E
P.O. Box 344, Morris, Manitoba R0G 1K0
Morris, Manitoba R0G 1K0
Telephone: (204) 746-2169 Email: museummorris@gmail.com
Visit their facebook page for more information!
Operations:
Closed for the Season – Please call for off season appointments
Roofing Project Completed
The Morris & District Centennial Museum was pleased to receive sponsorship from Manitoba Liquor & Lotteries through its Small Capital Sponsorship Program to upgrade its facilities
This sponsorship allowed the Board to replace shingles on the two main buildings and a storage shed. The existing shingles had been in place since 1986 and were in need of replacement.
The financial support is provided to promote the quality of life in Manitoba through arts and culture, health, major sporting events, and broad provincial initiatives.
The Board has been working to keep its facilities, grounds and programs an asset to the local community. Volunteers have spent numerous hours at the museum preparing for visitors. Approximately 500 visitors spent time in the museum this past summer season. Several new displays were prepared and new artifacts were on display.
The Board would like to hear from anyone who is knowledgeable about wild plants so that our existing beds may be labelled. If you can help, please call 204-746-2076.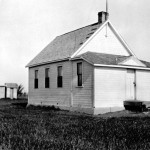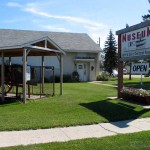 Collection of pioneer artifacts relating to the Red River Valley, particularly the Morris area.
About the Collections
The main museum building is the Carleton School built in 1951 and closed in 1968. This building contains an eclectic collection of artifacts from Morris and District: school artifacts, mens room, vintage clothing, farm tools, dairy section etc.The second building is furnished as a pioneer home and includes a kitchen, dining room, parlour, childs bedroom, master bedroom. The Museum has an old Hudson's Bay Store display case, which was purchased by J. J. Sadler in 1925 to use in his store in Renwar, Manitoba. In 1930 he used it in his store in Kenville, MB.. His son Lyman brought it to Morris in 1960 and it came into the possession of Bill Schellenberg in 1968. Bill donated it to the Museum in 1993. This case holds seasonal displays.
The year 2000 saw the unveiling of the "Morris Museum Millennium Mural". https://townofmorris.ca/visiting/culture/morris-district-centennial-museum/"Life Along the Red Rever" illustrates the rich history of Manitoba's Red River Valley. This mural was painted by Stephen Jackson of Roseisle, Manitoba and funding was provided by the Manitoba Heritage Grants Programme, Millennium Bureau of Canada and the Morris & District Centennial Museum.
Human History
Agriculture • Ceremonial Objects • Household Objects or Domestic Technology • Local History
Educational Programs
Local students are invited to view the museum during the school year and also during our Annual Christmas Open House in December.
Visitor Services
Films and Videos • Guided Tours : English • Parking Facilities : Free • Gift shop • Special Needs Facilities : Parking : Signs : Washrooms : Wheelchair access • Washrooms