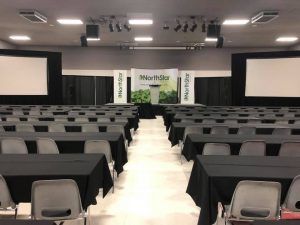 Meeting Rates- Before 5pm / After 5pm & Weekends / Full Day Rates (until 5pm)
Corral Room – $35.00 / $50.00 / $225.00
North Hall – $55.00 / $65.00 / $355.00
South Hall – $80.00 / $90.00 / $520.00
North & South  Hall – $110.00 / $135.00 / $715.00
Socials- Price includes hall set-up / clean-up, bartenders, pop, ice and cups.
Up to 200 guests – $759.00  North Hall
Up to 500 guests – $929.00- South Hall
Non Licensed Banquets / Weddings
Up to 150 guests – $450.00- North Hall
Up to 250 guests – $585.00- South Hall
250 guests & more – $1215.00- North & South Hall
Licensed Banquets/ Weddings
Up to 150 guests- $905.00- North Hall
Up to 250 guests – $1280.00 – South Hall
250 guests & more- $1695.00 -North & South  Hall
Commercial Kitchen Rental
Half Day 4 hours or less
$25.00 per day- Weekday
$45.00 per day – Weekend (Based on availability)
Full Day  8 hour or less
$40.00 per day -Weekday
$75.00 per day – Weekend (Based on availability)
We offer:
Audio/Visual rentals
Breakfast/ Lunch/Dinner catering options
Linen Rentals
Centerpiece Rentals
For more details please contact Chelsea Gauthier -Event Coordinator by phone at 204-746-2832 ext. 1 or email at admin@morrismultiplex.ca.
We also offer All Inclusive Pricing for any banquet. $29.99 per person price includes full meal, halls set-up/clean-up, decor,
audio/visual needs , linens and more. Min # of guests required. Taxes and Gratuities are additional.