Spring Fling Craft and Bake Thing 2019
April 27, 2019 @ 10:00 am

-

3:00 pm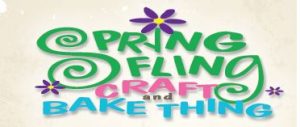 Join us for the 2019 Spring Fling Craft & Bake Thing on April 27th, 2019. This show started in 2015 where we found a interest for the spring show as our fall show has grown in the last few years.
This show features over 70 booths with  a variety of items such a home-based business's , crafts and baked goods.
Please click the link > 2019-floorplan-spring for a copy of the floor plan.
Interested vendors- please read through all the information below:
APPLICATIONS: 
Please CLICK HERE   for the application.  To be considered for the show, the application and payment must be handed in.
NEW IN 2019- A photo of the  application will no longer accepted.
Please send the application by email (as an file attachment), fax or drop off at the Multiplex Office. 
PAYMENTS: 
We accept cash/debit at the Multiplex office, cheque- payable to the Morris Multiplex.
Credit Card payments by filling out the CREDIT CARD FORM
Unfortunately, we do not accept e-transfers, visa debits or american express.
CONFIRMATION PROCESS:
  When the application and payment  are received an email will be sent regarding your application. If you are accepted into the show the payment will be processed at that time.
1  booths available at this time. 
For additional questions please contact Chelsea Gauthier by email at admin@morrismultiplex.ca or by phone at 204.746.2832.
List of Confirmed Vendors:
Angel Wing Glass Works by Colleen Unrau
Arbonne by Jenny Wiebe
Be-Dazzled Jewellery by Sandra Lifchus
Bou-K Baskets by Kristen Fraser
Clara Clark by Marilyn Ducharme
Cool Ties by ST
Creative Farmhouse by Delayne Pappel & Kristie Lake
Daisy Tree Essential Oils & Jewelry by Barbara Ritchie
Debl-Art by Debbie Letkeman
Deb's Doll Closet by Debbie Carr
Epicure by Donna Oughton
Fire & ice by Phyllis Kotyk
Flapjack Kids by Tammy Anton
Forever Living The Aloe Vera Company by Carol Derksen
Gel Moment by Samantha Woodley
Hand Crafted Gifts by Margaret Pfaff
Handmade Creations by Sandra McWilliams
Henry's Wood Turning by Henry Dueck & Rolanda Dueck
Honeysuckle Chewelry by Kalayla Brown
Icando Soaps & More by Cora Nacu
Ice Collectibles by Mike Sopher
It Works Global by Alexa Knox
Losha by Candace Brown
LulaRoe With Jocelyn Kitchur
Lush Blvd by Yorika Kinnadath
Margaret's Kitchen by Margaret Waldner
Mary Kay Cosmentics by Nancy Rempel
Maskcara Beauty by Justine Edwards
MCK Photography by Debra & Oliver Mckay
Miss Dee Naturals by Sarah Baer
Norwex by Jeanette Acheson
Nuyugen Soulera by Randy Fridfinnson
Pampered Chef by Kelly Morissette
Pine & Cedar wood Crafts by Earl Stoperd
Pink Zebra by Heather Zajac
Rivercity Wood Turner by Dirk & Jennifer Hollar
Rock paper Candy by Rebeckah Lothian
Rustic Arrow Workshop by Alyssa Wall
Ryva Designs by Liane & Ava
Sacred Mane Beard Products by Stephane Kirouac
Sandhill Cottage Crafts by Lisa Cooke
Scentsy by Olga Goebel
Signature Homestyles by Cora Nacu
Silly Goose by Margareth Rybuck
Soapy Waters Arts & Crafts by Michelle Jaques & Jay Juenke
Soul Stoked by Caitlin McEachern
Sparkle & Shine Designs by Lynn Floyde
Style & Sass  by Shelley Harcus
Sunrider Herbal Health Foods by Connie Brunet
Suzanne Harker selling Bath bombs, soaps and shaving butter.
Sweetlegs With Kathy Remillard
The Perogy Lady by Susan Dueck
The Vinegar Guy by Ed Dreger
Thirty-One Gifts by Christy Robson
Tupperware by Lori Rempel
Twig & Fur by Kendel Froese & Lindsay Rae
Usborne Books by Charlene Veenendaal
Vintage Rose Jewellery by Karen Tkachyk
Voxx Life HPT by Lauren Geletchuk
Watkins by Lorna Epp
Young Living Essential oils by Rae Huber
Updated – 04-24-2019