Fall Into Christmas Expo 2019-Sold Out
October 26, 2019 @ 10:00 am

-

3:00 pm
Event Navigation
Join us for the 2019 Fall Into Christmas Expo on October 26th, 2019. This show features over 70 booths with  a variety of items such a home-based business's , crafts and baked goods.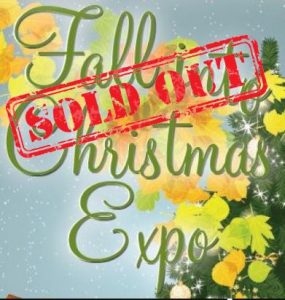 WAITING LIST:
Applications will be accepted for the waiting list. To become a vendor on the waiting list please send in the application. If a booth becomes available full payment will be required at that time.

APPLICATIONS: 
Please CLICK HERE to download a copy of the application. Please note, photos of applications will not longer be accepted. 
PAYMENTS
We accept the following payments cash/debit at the Multiplex office, cheque- payable to the Morris Multiplex  or credit card. Please CLICK HERE for credit card payments.
We do not accept visa debits, american express or e-transfers.
Confirmation Process-  When the application (all lines must be filled out) and payment  are received an email will be sent regarding your application. If you are accepted into the show the payment will be processed at that time.
Floor plan Placement – Each vendor is placed under the following criteria:
–              If  purchased or are bringing an additional table.
–              Wall space if purchased electricity (also based on items sold and availability)
–              Type of items sold at each booth.
Floor plan will be posted online on Monday October 21st.
For additional questions please contact Chelsea Gauthier by email at admin@morrismultiplex.ca or by phone at 204.746.2832.
List of Confirmed Vendors:
4 Sisters Creations by Corrine Bakun
A Little Country Charm by Shelly Loewen
A Touch of Mink by Darlene Chanas-LaRue
ALJ Custom Designs by Angie & Doug Johnston
Angel Wing Glass Works by Colleen Unrau
Beadcrazz by Michelle Brown
Beadz and Needz by Brooklynn Magwood
Be-Dazzled Jewellery by Sandy Lifchus
Bejeweled Goddess by Lauralee Hunt
Cassandra's Creations by Cassandra Bilodeau
Chalk Couture by Vivian Schellenberg
Country Dough & Barn Board by Shelley Hacault
Clara Clark by Diane Stuart Edwards
Creations by Gma (Sandra Johnson)
Cricks Creation by Cheryl & Grace Crick
Dare to Dream Design by Lisa McAlpine
Deb's Doll Closet by Debbie Carr
Debl-Art by Debbie Letkeman
Enchanted Grove Alpacas by Sandra Brown
Epicure by Donna Oughton
Fit Team Global by Tiffany Zablotney
Flapjack Kids by Tammy Anton
Forever Living The Aloe Vera Company by Carol Derksen
Glitter All the Things by Therese McCormick
Gramma's Knitting and Crotchet Items by Sharon Goretzky
Handmade Pens 4 You by Ted & Jodi Didora
Healing Touch & Aromatherapy by Amanda Atiyolil
Henry's Wood turning by Henry & Rolanda Dueck
Homemade Creations by Pat Myron
I Cando Soaps & More by Cora Nacu
Ice 119 Collectibles by Michael Sopher
Julie Griffin Crafts-
Khut Sala Artisians by Tami Siemens
Klassen Games by John & Tammy Klassen
Little Bit Baby by Melissa Penner
Margaret's Kitchen by Margaret Waldner
Marla's Puzzle Pantry by Marla Aronovitch
Mary Kay Cosmetics by Nancy Rempel
Maskcara by Justine Edwards
MCK Photography by Debra Mckay
Natalie's Life Sense Inc DBA Rawnata
Norwex by Jeannette Achson
Pampered Chef by Kelly Morissette
Pink Zebra by Lori Symbol
Poppy & Mae Co. by Bev Neufeld
Prairie Skies Design by Ashley Young
Plunder Design by Jody Schweitzer
River City Wood Turner by Dirk & Jennifer Hollar
Scentsy by Rebekah Grenkow
Sewing By Anna Guenter
Smith & Starr by Nancy Smith & Brett Starr
Soulstoked by Caitlin McEachern
Spas & Style by Amandeep Parmar
Style & Sass by Shelley Harcus
Sweetlegs With Kathy Remillard
Tara's Treasured Creations by Tara Belinsky
Tea Stained Designs by Tarin Kopp
The Perogy Lady by Susan Dueck
The Sage Collection by Cindy Storozuk
The Towel Lady by Joyce Wilson
The Vinegar Guy by Ed Dreger
Thirty One Gifts by Christy Robson
Toadally Tim Photography by Tim Greene & Becky Dreger
Tocara Jewelry by Janine Gosselin
Tupperware by Cherise Dyck
Usborne Book by Jenn Siemens
Vintage Rose Jewellery by Karen Tkachuuk
Voxxlife by JoAnne Oswald
Young Living Essential Oils by Rae Huber