Morris & Area Christmas Cheer Board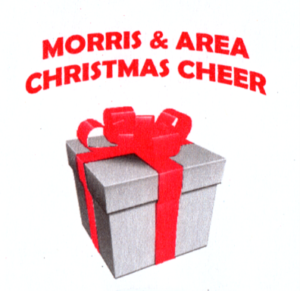 Merry Christmas
The Morris Area Recreation Commission staff along with the Morris and Area Christmas Cheer Board are excited to partner again to bring Christmas Cheer to the community of Morris and surrounding areas.
Christmas Cheer is entering its 32nd season. In 2022, 108 hampers and over 130 children's gifts were given. Breakfast with Santa has been running since at least 2008 – 14 seasons. Last year 85 families visited with Santa and many more joined us for breakfast. We are so thankful for your generous donations.
On Saturday, December 2 from 9:00 a.m. to 11:30 a.m. we will host Breakfast with Santa at the Morris Multiplex. The annual fundraiser will consist of a pancake breakfast handed out by our amazing volunteers. Each child has a chance to visit with Santa and receive a Christmas treat. Admission is by monetary donation or by unwrapped toy.
There are several volunteer opportunities throughout December. If you would like to volunteer your time with the Christmas Cheer please contact morrisareachristmascheer@gmail.com. If you would like to help out during Breakfast with Santa we are always looking for elves, servers or helpers during the event. Please contact Arien Peterson at 204-746-6622 or email recreation@townofmorris.ca.
We look to your generosity to help not only cover the costs of Breakfast with Santa but to help keep the Christmas Cheer hampers consistent with past years. Last year we were not as successful in our fundraising and monetary donations were lower then previous years.
Donations for Christmas Cheer can be made by cheque payable to Town of Morris, Box 28, Morris, MB R0G 1K0 or etransfer info@townofmorris.ca. Please indicate in the memo line Christmas Cheer. A receipt will be provided for donations over $50.00.
We have also been chosen by Morris Tim Hortons as the recipient of Holiday Smile Cookies sales. An order form has been enclosed. We ask for your generous help this year in both a cookie order and donation if possible.
We thank you in advance for your consideration in helping make Christmas a time of joy and kindness in people's lives.
Sincerely,
Morris Area Recreation Commission & Christmas Cheer Board
Arien Peterson Jack Wiebe Byron Edel
Sherri Siemens Annette Bergstresser